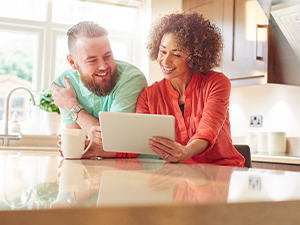 If you are selecting a surface for your kitchen countertops, you may be considering going with prefabricated rather than custom cut slabs in order to save money. It's important to understand that your investment decision involves more than just price. There are many factors to consider, from material selection and quality to design options and other considerations. Here are the pros and cons of prefabricated countertops.
Material Selection
Each type of countertop material has its own unique qualities. The most appropriate material selection will depend on your particular needs. Suppose you rarely cook or entertain, and you are more concerned about how the stone looks than how it holds up to use. You could get away with choosing a highly polished marble. If you are looking for a way to add value to your home for potential resale, granite is a widely popular choice.
PRO Prefabricated countertops are available in a variety of colors and textures.
CON Manufacturers of prefabricated countertops may not offer the countertop material you prefer, and your material selection may be more limited than if you were to select a slab.
Material Quality
Low quality materials may be cheaper, but as the adage goes, you get what you pay for. Take Chinese quartz, for example. It is more likely to have discolorations from resin pooling on the surface than quartz sourced elsewhere. Problems with other types of countertop materials occur, depending on region, methods of quarrying and transport, and other factors.
PRO Prefabricated countertops responsibly sourced from reputable suppliers and manufacturers can be of the same level of quality as countertops custom cut by a fabricator.
CON Prefabricated countertops may have dye lot variation from one countertop to another. If you are buying more than one countertop, you might see a slight difference in color.
Shape, Size, and Edge Options
Kitchens come in all shapes, sizes, and designs, and so do countertops. Choosing countertops that perfectly suit this very important space in your home is one of the most important home design decisions one can make.
PRO If you happen to find prefabricated countertops that meet your specifications and satisfy your design expectations, you may save a few bucks with this option.
CON Prefabricated countertops have zero flexibility when it comes to dimensions and edge options. What you see is what you get. In addition, seam placement may be problematic with prefabricated countertops.
Cost Considerations
The two major factors that determine the price of having new kitchen countertops installed are the cost of the materials and the amount of time the job will take from start to finish, which translates to labor cost.
PRO Because prefabricated countertops are standard sizes that are ready to install, prefabricated pieces generally are about half the cost of slabs, which require more preparation prior to placement.
CON If your prefabricated tops do not come with holes for the sink, faucets, cooktop, or other features or if the dimensions of your kitchen cabinets do not exactly match those of prefabricated countertops, you will need to hire a stone fabricator to customize your tops. This basically defeats the purpose of buying prefabricated tops. You would be better off with a custom cut slab.
If you decide to purchase prefabricated countertops, be sure to ask your contractor to include all labor expenses with your quote. With prefabricated countertops you may not save as much money or get the quality workmanship that you expect.