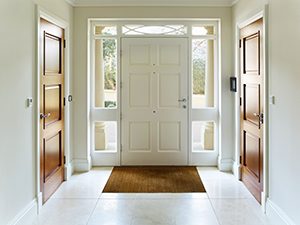 Incredibly Clean Tile and Grout
Tile cleaning is tough work. Grout cleaning is even harder. Regular cleaning and janitorial services can only accomplish so much when it comes to tile and grout. Certified Surface Care PROS Partner trained technicians use specialized equipment to extract deeply embedded dirt and grime, thoroughly cleaning and sanitizing your tile, grout, and baseboards. They use nonabrasive yet effective methods for a thorough, deep-down clean.
A PRO can service tile and grout floors, shower walls, tub surrounds, hot tub surrounds, pool decks, table tops, and more in both residential and commercial properties.
Grout Sealing
After your tile and grout is deep cleaned and sanitized, take advantage of professional grout sealing services. A surface cleaning and sanitizing professional will use the highest quality grout sealer available for the best protection. Grout sealer is absorbed into the porous surface, filling in the tiny holes where contaminants collect. It leaves your floor with a clean and fresh look that is much easier to maintain, because regular cleaning is more productive.
Grout Color Sealing
If your grout has permanent stains or a blotchy appearance, grout color sealing may be the solution you are looking for. With our grout color sealing services, a PRO can match your existing color, or they can change the color of your grout to any color you want and give your floors a completely different look. Plus, color sealing actually prevents staining, a very common grout problem. With constant-acting mildewcides and fungicides, your grout stays cleaner and healthier than unsealed or clear sealed grout.
Repair & Restoration
In addition to professional deep cleaning services, a PRO can resolve a host of tile and grout problems, such as fixing grout cracks or filling in missing grout, as well as tile repair and replacement.
---
Let's discuss your needs. Contact us today.