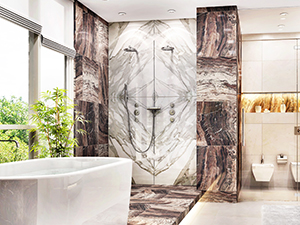 The Scoop on Large-Format Porcelain Slabs
The large-format porcelain slab market continues to gain popularity due to advances in technology, which are increasing their functional benefits, beauty, and broad application possibilities. You may have questions about this material. How big are large-format porcelain slabs? How much do they cost? Where can large-format porcelain slabs be installed? What are the design possibilities? Let's take a closer look.
Large-Format Porcelain Slab Essentials
Large-format porcelain slabs, formerly known as gauged porcelain tile panels, are huge pieces of tile that are only 6-12mm in thickness and measure about 10′ x 5′ in size. Porcelain surfaces are low maintenance, stain resistant, and do not need to be sealed. Even though large-format porcelain slabs look remarkably like natural stone, the average price range, $5 – $18 per square foot, is less than most stone.
What You Need to Know About Through-Body Veining
Veining, or the beautifully organic lines that meander across and through natural stone, is a popular natural stone slab feature. Porcelain, unlike natural stone, is man-made. With most large-format porcelain slabs, the veining is printed on the surface. The problem is that when fabricators and installers cut the slabs, the unsightly, unfinished insides of the porcelain are revealed. If you were to ask a knowledgable fabricator or installer about this problem, they would tell you that it impacts the entire installation process, from sinks and edges to corners and seams. Another problem is that this material, if damaged, can be very difficult or even impossible to repair and restore. Fortunately, new technologies have produced porcelain with veining that is not just on the surface, but throughout the body of the material. This new development expands design possibilities, simplifies the installation process, and facilitates possibilities for repair and restoration. Unfortunately, porcelain with through-body veining is not yet widely available.
Design and Applications Possibilities
Unlike natural stone, where there can be variation in neighboring slabs, large-format porcelain slabs can be truly identical. When two pieces are placed next to each other in a design scheme called bookmatching, they form a symmetrical, mirror-like pattern that resembles an open book. Four slabs can be aligned in an X pattern called quadmatching or a diamond pattern called diamond matching.
Large-format porcelain slabs have fewer grout lines, making them ideal for food prep and especially appropriate for applications in wet areas, such as shower walls, bathroom vanities, walls surrounding baths or hot tubs, kitchen countertops, backsplashes, water features, seat walls, and more. The application possibilities for large-format porcelain slabs are nearly endless, including floors, walls, bar tops, table tops, and fireplace surrounds. Porcelain holds its own against the elements, making it ideal for outdoor kitchens and other exterior applications. As previously mentioned, new technologies open up previously impossible design opportunities. For example, through-body veining allows for more edge and sink options. Lightweight gauged materials and improvements in mortar technology mean large-format porcelain slabs can be used for building facades.
The Importance of Hiring Skilled Fabricators and Installers
Did you know that if an installer is off by just 3/8 of an inch that your entire slab could crack? The importance of working with highly skilled professionals cannot be understated.
In some ways, large-format porcelain slabs are easier to install than thick natural stone slabs. They are lightweight and easier to transport and handle, despite their size. Lippage (unevenly placed tiles) and misalignment are less likely to occur with thinner slabs. However, installation of this material requires incredible planning and precision. As surface materials advance in technology, so do the tools and methods used to install them.
We always use the most appropriate specialized equipment and the best installation techniques required for a safe and successful installation.