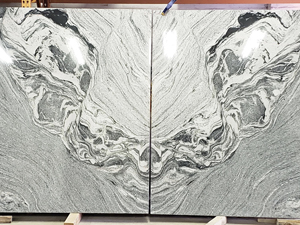 Stone and Tile Slabs as a Focal Point
One fundamental element of interior design is the focal point. Bookmatched slabs take the focal point concept to a stunning new level of elegance. This article explains how to best incorporate bookmatched slabs as a dramatic focal point in your home's design scheme.
Practical Benefits of Slab Applications
Slabs lack grout lines, which means they drastically reduce the cleaning and maintenance associated with grout lines. As such, they are especially appropriate for applications in wet areas, such as shower walls, bathroom vanities, walls surrounding baths or hot tubs, kitchen countertops and backsplashes, and more. In some cases, with proper substrate preparation, slabs can be installed directly over existing materials. Matching patterns and veins at seams can be challenging. The bookmatching technique is a convenient way to avoid mismatched seams.
Bookmatched Slabs
Bookmatched slabs command attention in the best way. The symmetry of this design feature conveys a sense of order, softened by the curves in the stone veins. Gorgeous bookmatched slab designs are achieved by the strategic pairing of neighboring natural stone slabs, nearly identical in appearance or engineered stone slabs, which are truly identical. The two pieces are placed next to each other, forming a symmetrical, mirror-like pattern. The appearance of the matched slab design resembles an open book, hence, the term bookmatching. When this process is repeated, four slabs are aligned resulting in a pattern that moves in four directions. This X or a diamond pattern is called quadmatching or diamond matching.
Best Places to Incorporate Bookmatched Slabs as a Focal Point
For many years, natural stone or quartz slabs have been a favorite material among designers for creating a focal point for commercial and high end residential properties, and over the past decade or so, large format tiles, such as gauged porcelain tile panels or slabs have also gained popularity. A focal point in interior design can be achieved through a variety of means, from artwork or furniture arrangement to a window with a great view or an architectural feature. Bookmatched slabs are becoming more common as a focal point because of the increased availability of large format tiles, panels, and engineered stone slabs with distinct veins and patterns.
Here are the best places to incorporate bookmatched slabs:
Facing the main entrance. Nothing says "welcome" more than a space designed to create a positive impression. A feature wall is a great place to showcase the colors and patterns of exquisite natural stone or beautifully engineered slabs.
Accent walls. Take advantage of the style and mood created at the entrance and continue it throughout the home or property with matching accent walls.
Exterior living spaces. Finish up the unified look with bookmatched slabs as an accent wall on a covered patio or outdoor kitchen.
Fireplace surrounds and fire features. Dramatic features in and of themselves, fireplace surrounds and fire features can be downright breathtaking when they are created using bookmatched slabs.
Fountains and water features. Like fireplaces, even the most unassuming fountains and water features tend to make an impression. Bookmatched slabs can accentuate this phenomenon.
Backsplashes. Select stone or tile that will hold up against cooking mess and cosmetic splatters for kitchen and bathroom backsplashes, such as granite or quartz. Bookmatched backsplashes create an unexpected work of art between your countertop or vanity top and other wall features, such as cabinets, mirrors, shelves, or windows. For an extra dramatic flair, continue the backsplash all the way up to the ceiling.
Shower walls and tub surrounds. Whether you have an open shower, a walk-in shower, a built-in tub, or a stand-alone tub, bookmatched slabs are an aesthetically pleasing, functional option for spa-like bathrooms. As mentioned earlier, fewer grout lines are a big plus.
Horizontal applications. Table tops, bench tops, bar tops, countertops, vanity tops, window sills, and other horizontal applications can all be bookmatched for an unexpected touch of style.
A statement piece. Like a window, a wall mounted shelf, or an architectural work of art, bookmatched or quadmatched slabs, large format tiles, or panels can be assembled to create a large, stand-alone feature that does not necessarily go from floor to ceiling.
If you are looking to incorporate the timeless elegance of geology into your interior design as a focal point, you cannot go wrong with bookmatched slabs.
This article is one of a series of articles written and published on behalf of Surface Care PROS Partners.