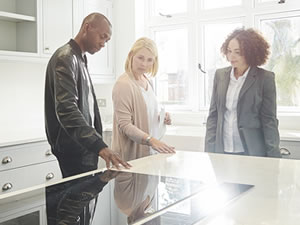 What is the best countertop for your kitchen?
Installing new countertops comes with many questions, and even more choices when it comes to aesthetics. The best way to tackle the task of countertop selection is to eliminate as much uncertainty as possible. Here are some tips to help you make the most appropriate selection.
Know Your Renovation Strategy
Step one is to decide on the type of renovation taking place. If you're committing to a full renovation—or if your kitchen or bathroom is being built from scratch—you'll have the option to customize everything to fit your style and budget. If this is the case, make sure to pick your countertop first. The countertop is the center of focus for a kitchen or bathroom, so building your area around this piece is a fundamental interior design strategy. But if you're only partially renovating—if you're changing just one or two things about your kitchen—don't worry, your choices are still broad and highly customizable.
Know Your Countertop Budget
The next major step is considering your budget. When you know how much you can spend, you know what options to rule out. Marble makes you think luxury, but for your wallet's sake, granite, quartz, and soapstone can give the exact same sense of exceptionality without breaking the bank. If your choice of countertop is set in stone, remember that you can always paint your cabinets and trim to compliment the countertop finish and color.
If you find that you haven't quite narrowed your options to a single choice, remember that you can always choose more than one stone. Many experts say granite is a one-type-fits-all natural stone. With a variety of colors, wonderful durability, and multiple ways to finish the surface, settling on granite isn't a decision you would regret.
Know Your Countertop Style
This brings us to the next step in the design choice, forming the room around your home. Start with a primary and a secondary color based around your home's aesthetic theme. If you have a rustic country home, go for warm and neutral colors. Beveled and ogee countertop edges work well with these kinds of homes. If you have a modern or minimalist style home, choose solid colors or monochromatic shades. Choose eased or bullnose edges for your countertops with a style like this.
Deciding on the best countertop for your kitchen will require careful consideration of renovation strategy, budget, and style. Keeping these factors in mind will make it much easier to arrive at the countertop that feels just right for you.
This is one of a series of articles written and published on behalf of Surface Care PROS Partners.