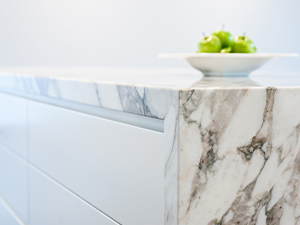 Stone Thicknesses
If you are in the market for a new countertop installation, you may have noticed that countertops come in a variety of thicknesses. Perhaps you have questions. Why do countertop thicknesses vary? How thick is a typical countertop? Does countertop thickness even matter? The most common stone thicknesses for projects, in centimeters (cm) are 1 cm (3/8"), 2 cm (3/4") and 3 cm (1 1/4"). Even though they may all be the same material, they are not all used in the same way. This article provides important details about countertop thickness that can help you make a more informed decision about your installation.
1 CM Stone
1cm (3/8") stone really only has 2 practical uses. The first one is vertical projects. The second use for 1 cm stone is pre-made countertops with a laminated edge. Let's take a look at each of these.
Vertical Stone Installations
Vertical project examples include fireplace surrounds, shower walls, backsplashes, and other vertical projects. 1 cm is much more fragile than 2 or 3 cm, but once the stone is properly attached to the right backing, such as drywall, plywood or other backing material, it becomes less fragile. The advantage to 1 cm stone is that it weighs much less than 2 or 3 cm, so it is easier to work with in some projects.
Pre-made Countertops With a Laminated Edge
A laminated edge is an edge that has had extra material glued onto it to make it appear thicker. Most of the time, this type of selection is used for vanity countertops precut with polished edges. 1 cm remnants are great for small shelves, furniture tops and other small projects.
There are a couple of drawbacks to using pre-made countertops with a laminated edge. If one of the edges needs to be cut for any reason, then the cut edge somehow has to be polished to the same shine as the surface of the stone, and the edge has to be made to match, as well. Another drawback has to do with sinks. Since the edges are laminated to show a thicker profile, if a hole is cut out for an under-mount sink, the actual, smaller, original thickness of the stone will show. It's better to use the less popular drop-in sink on this case.
Pre-made countertops with a laminated edge are usually great for cookie cutter homes in a new subdivision where measurements tend to be the same and they can be ordered in bulk. If you want 1 cm stone for a special project, more than likely you will have to special order it. Most suppliers don't carry it in stock, if they can get it at all.
2 CM Stone
2 cm (3/4") stone is more flexible in its possible uses. Even though it weighs more than 1 cm, it can still be used for wall cladding, fireplace surrounds, and other vertical projects. Again, it should be attached properly to the correct backing. Since it is heavier than 1 cm, it is not quite as easy to work with in some situations. 2 cm remnants are also good for smaller projects like furniture tops, small shelves and other small projects. Let's take a look at another possible use for 2cm stone, that is, countertops.
Kitchen Countertops and Bathroom Vanity Tops
With the proper support, 2 cm stone can be used for countertops in kitchens, bathrooms, break rooms, bar tops, table tops, and similar applications. Depending on the project, this thickness of stone may need the extra support of a plywood backer. If that becomes necessary, then be aware that the exposed edges will need to be laminated to hide the plywood. Also, like 1 cm, if the edges are laminated but a cutout is needed for an under-mount sink, the difference in the edge thicknesses will show. 2 cm overhangs should not exceed 6" without support. Your installer can recommend the proper overhang support for your project.
Supply is another consideration of 2 cm material. It is more common than 1 cm but is stocked in limited capacity by distributors.
3 CM Stone
These days 3 cm stone is the "mac daddy" of installation projects. You can do almost anything with it. With proper support it can be used for wall cladding, shower walls, fireplace surrounds, or other vertical applications. With the exception of a few geographical areas, 3 cm is also used for kitchen and bathroom countertops, bar tops, tabletops, windowsills, and a variety of other projects. It is the most commonly stocked thickness in distributors' warehouses across the United States, again, with the exception of a few geographical areas.
The perks of using 3 cm stone include:
No need for extra support from plywood on 3 cm countertops
No need to laminate the edges for extra thickness
An under-mount sink cutout edge will match the front edge
The thickness will accept a wider variety of edge profiles
It is available in more colors and styles than we can count
Remnants are great for smaller projects
Other than the fact that 3 cm stone is heavy, there isn't much you can't do with 3 cm material.
Stone is very versatile and can be used for an endless variety of projects. We can help make sure you pick the right thickness of stone for your project.
---
This article is one of a series of articles written and published on behalf of Surface Care PROS Partners.