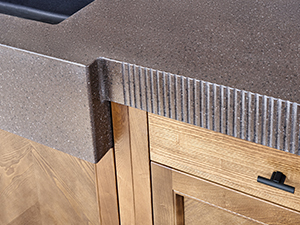 Why Countertop Overhangs Matter
If you're in the market for new countertops, you may be curious about countertop overhangs. There are standard, extended, or flush-mounted tops. Are overhangs essential? How far can an overhang extend without support? Let's take a look at countertop overhangs.
Overhang vs Flush
A countertop overhang is exactly as it sounds. It is the portion of the countertop that extends beyond the cabinet underneath, usually by about 1.5 inches. If there is no overhang, the countertop is said to be flush with the cabinet. Although countertops can be installed flush, you may want to reconsider a flush install for the following reasons:
CLEANING SPILLS
Spills are inevitable on kitchen countertops, where food and beverage preparation take place. Sometimes spills happen in bathrooms on vanity tops, too. Countertop overhangs keep spills from dribbling all over the cabinet faces and the edges of doors and drawers, as well as handles and pulls. With countertop overhangs, spills fall directly to the floor, where they can be easily wiped up.
HIDING IMPERFECTIONS
Countertop overhangs can hide minor variations in cabinet alignment.
CABINET WARRANTY
Check your cabinet warranty. It may require an overhang to protect cabinets against damage from liquids.
PROTRUDING HARDWARE
With flush cabinets, the handles and pulls on your doors and drawers will protrude further than the countertop, which may result in pockets, belt loops, sleeves or other objects constantly getting caught.
CLEANING CRUMBS AND DEBRIS
Although crumbs and loose debris likely won't damage your cabinet face, wiping the little bits and pieces off of countertops with no overhang can be a challenge. Think about it. When people wipe crumbs from a top, they place an open hand to catch the crumbs just below the overhanging edge.
Extended Overhangs Need Support
Countertops can be extended beyond the supporting cabinet to create a space in the kitchen that can serve various purposes, from food prep to buffet-style serving to a seating or desk area. Since cabinets serve as the support for countertops and overhangs go beyond the cabinet edge, extended overhangs will need dependable support. Wall mounted tops, desks, shower benches, mantels, and shelves will also need support. This may be accomplished with legs, corbels, decorative brackets, or hidden brackets.
Decorative Support
Legs, corbels, and decorative brackets can visually enhance traditional style kitchens in addition to the support they provide for extended overhangs. If you are using an extended countertop overhang for seating, you'll need about a foot of overhang to make space for feet and knees. For seating areas, decorative supports are referred to as knee-knockers because in cramped sitting areas, they sometimes get in the way.
Hidden Support Brackets
For sleek, modern kitchens or tighter spaces with less leg room, hidden support brackets are ideal. Your countertop can "float," seemingly unsupported. The brackets are virtually invisible, because one would need to bend down and look at the countertop from underneath to see the supporting hardware. Hidden support brackets are also a great option for slabs installed on top of a pony wall (short wall, often used for standard height or bar height seating).
How far can a countertop overhang be extended without support?
People sometimes ask how far a countertop overhang can be extended without adding support, perhaps to save a few bucks. A common misconception is that natural stone and engineered stone are impervious to damage. Without proper support, even a very thick slab can break. Regardless of material type and thickness, all countertop materials will need support for extended overhangs. Reputable fabricators and installers will not take any chances and will follow the NSI (Natural Stone Institute) Standards for natural stone installations and manufacturer standards for engineered stone. Insufficient support will end up costing a lot more in the long run.
---
This article is one of a series of articles written and published on behalf of Surface Care PROS Partners.