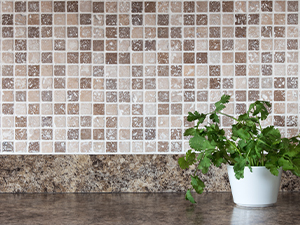 Stone and Quartz Backsplash Options
If you are having natural stone or manmade quartz countertops and backsplashes installed, you will need to make a decision about the height of your backsplash or whether you want a backsplash at all. This article provides valuable information about the purpose of a backsplash, what could happen if there is no backsplash, and the pros and cons of various backsplash heights.
The Purpose and Function of a Backsplash
Backsplashes have two main jobs. The first is to protect your walls and cabinets from liquid spills. The second is to hide the gaps between your countertop and walls.
Spill Protection
If a spill occurs on your countertop and, for whatever reason, does not get wiped up right away, a backsplash will prevent the spill from seeping down into your cabinets or from pooling at the wall and being absorbed into the drywall. Over time, this issue can damage your cabinets and walls resulting in costly repairs.
Hiding Gaps
Even in new construction, walls are very seldom completely straight. Settling, uneven drywall mud, and other factors can make walls a bit uneven. It's nothing to worry about. It's just a fact. Fabricators will try as hard as possible to minimize gaps but sometimes gaps will happen. Since stone doesn't bend and cannot be "molded" to follow the wall line. Backsplashes go a long way toward hiding those gaps.
If You Forego the Backsplash…
While no backsplash can put a modern spin on a kitchen, it may not be worth the risk of expensive damage down the road. The decision to forego a backsplash that matches your countertop material is not recommended unless tile or some other backsplash material is going to be installed all the way down the wall to your countertop. If there are gaps, make sure the backsplash material you choose will be wide enough to cover those gaps. For example, if you have a quarter inch gap, thin metal for a backsplash won't hide the gap.
If you do decide on no backsplash, purchase and store some extra material. That way, if you realize later down the road that no backsplash was a mistake, you will have the exact color you need. Don't expect to find an exact color match for your existing stone or quartz countertop if you purchase it later. Colors can change from lot to lot on stone and even manmade quartz countertops.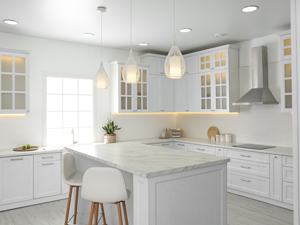 4-inch Backsplash
The most common backsplash height is 4 inches. When your stone or quartz backsplash is cut and installed at the same time as your countertop, the top and backsplash will match. Fabricators do what they can to line up veining but depending on the project, this may not be possible. A 4-inch backsplash will be the same thickness as your countertop project and will cost the same per square foot as your countertop material. There are times when a 4-inch backsplash may need to be cut a little taller to cover the caulk/paint line of the previous countertop splash.
The backsplash is installed after the countertop installation. Your installer will make sure the backsplash is securely adhered to both the top of the countertop and the wall and fill the seams for spill protection and aesthetic purposes.
A 4-inch backsplash can be left on its own with just a painted wall, or it can be used in addition to other backsplash material such as tile or metal.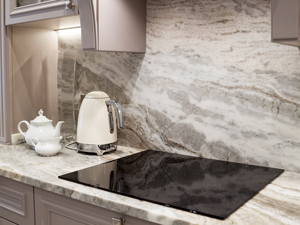 Full Height Backsplash
Full height natural stone and quartz backsplashes are the most impressive and helps give a kitchen the "WOW" factor. Plus, they are easy to clean.
Full height backsplashes are also the most expensive, for several reasons. They go from the bottom of the cabinets to the top of the countertop, leaving no open wall space. The backsplash material is sold at the same price as your countertop material, but it does add a lot of extra square footage to the project. It also requires a second trip to be installed, as the space usually does not get measured until after the countertop is installed. This ensures a better fit. Also, there will have to be electrical outlets cut out, which can add to the cost. A full height backsplash will be the same thickness as your countertop material.
Here's an interesting design note. It is not unheard of for people to mix and match their countertop and full height backsplash materials. For example, an Absolute Black granite countertop can be installed with a Red Dragon granite full height backsplash.
If you are having natural stone or manmade quartz countertops and backsplashes installed, make a decision about the height of your backsplash based on both what fits your budget and what makes you smile. The end result should be something you love.
---
This article is one of a series of articles written and published on behalf of Surface Care PROS Partners.