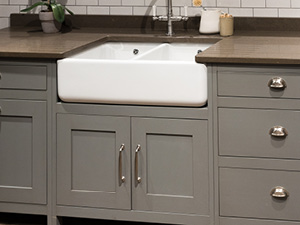 Sinks Are Important
Some people view sinks as an afterthought when designing a kitchen or changing out a countertop. "It's a box that holds water and dishes. Big deal." It can be a big deal depending on how you use your sink, especially if you are getting a stone or quartz countertop. Once you pick a sink, if you discover you do not like it, it can very costly and time consuming if not impossible to change it.
Here are a few things to consider when picking a sink:
How do you use your sink?
Functionality is a major issue. Do you cook huge family meals with lots of big pots and pans? You may want a deep single bowl sink instead of a shallow 50/50 sink. Does your vacation home lack a dishwasher? Then you may want a 60/40 sink with one side to wash and one side to rinse and dry.
Think about sink size.
Consider for a moment the size of the sink you need. If your kitchen is smaller and does not have a lot of counter space, you may want to use a smaller sink for to rinse and leave the bulk of the work to the dishwasher. A smaller sink will give you a bit more counter space.
Consider your cabinets.
Another thing to take into consideration is your cabinets. If you have a thirty-inch sink base, a thirty-six-inch sink will not fit. You should pick a sink that will fit in the cabinet.
Farm sinks, aka apron front sinks, are extremely popular right now, but if you don't have an apron front cabinet, you will either need to have your cabinet modified or get a new cabinet altogether.
D-shape sinks can create another issue. Unless your sink cabinet is bumped out from the wall so it has more room in the back, your faucet will more than likely not fit. It will have to mounted to the side of the sink.
Question: Why is all this important?
Answer:  Once the sink hole is cut into a natural stone or quartz countertop, changing your mind can be a costly mistake. Sink holes, unlike faucet holes are not a standard size. They are cut to the specs of the particular sink you choose. It is much easier to swap out a sink for the exact same model but not a different one. Here's why:
Sink holes are cut in the fabricator's shop with specialty tools that require water to help the cutting process. The hole cannot be changed in a home due to the need for water. There is no way to contain the water, so in essence, trying this in your home could result in flood damage .
The sink run of the countertop will have to be removed from your home and taken back to the shop. This means that in addition to the new sink, there will be plumbing, transportation, and cutting costs. (Note: If the new sink is smaller than the original one, the fabricator cannot make the hole smaller, only bigger.)
Once the hole is recut and repolished, the sink run will go back on a truck and come back to your home to be reinstalled along with your new sink . All this moving of the stone increases the risk of cracking or breaking. The fabricator will not guarantee previously installed stone. If it breaks, then you are just out of luck. You'll have to purchase a brand new countertop
So please, pay attention to the sink you choose. It's not just a box that holds water and dishes. As you compare sinks for purchase, remember that replacing a sink in a stone countertop is not as easy as one might imagine. Be sure to choose your sink wisely.
---
By Sharon Koehler. This article is one of a series of articles written and published on behalf of Surface Care PROS Partners.