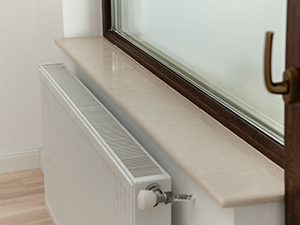 Selecting natural stone is a lot like selecting art work. Each slab is a unique, valuable geological display, so it makes sense to use as much of the material as possible, not only for your kitchen or bath design, but also by repurposing the remnants. After you have made your selection and we have decided on a design, we can let you know whether there will be usable leftover materials and set those aside for you should you choose to purchase them once the fabrication process is complete. Following are some suggested uses for natural stone remnants.
Natural Stone Tabletops and Stands
Complete any seating area with a small table for magazines, a crossword puzzle, or a few books. A c-table, named for its shape, can be snuggly tucked around a bed, chair, or couch, making it a convenient place to put a drink, snack, or laptop. Nesting tables are ideal for folks who live in small spaces. For very small remnants, use various base heights to create stands for sculptures, decorative pieces, plants, flowers, and other items.
Natural Stone Food Prep Surfaces
Natural stone is not an appropriate material for regular cutting boards, because soft stones like marble will scratch easily and hard stones like granite will quickly ruin knives. However, you can perfectly slice hard and soft cheeses on a natural stone board with a groove aligned to receive an integrated stainless steel slicing wire. Since stone tends to remain cooler than room temperature, a piece fitted with non-skid feet would make an ideal surface for pastry prep, keeping dough nice and firm throughout the rolling and cutting process.
Natural Stone Architectural Accents
Add elegance to your home or business with natural stone accents, such as fireplace surrounds, windowsills, backsplashes, stepping stones and more.
Natural Stone Accessories
From raised dog feeding ledges to soap dishes, natural stone accessories can add a touch of elegance to your normal routine. Use natural stone remnants for matching coasters, trivets, serving trays, candle holders, and more. The possibilities are endless.