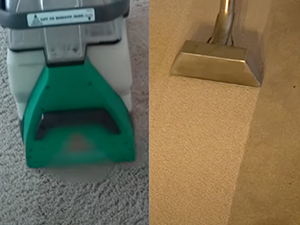 DIY Carpet Cleaning Machines Aren't Worth It
Fresh, clean carpets create a welcoming atmosphere. Whether you are a renter who wants to retrieve a deposit, a landlord looking to spruce up a rental property in between tenants, or a home owner who wants to make their home fresh and clean, wall to wall carpeting should be professionally cleaned. Before you make the mistake of renting a carpet cleaning machine to save a few bucks, read on to learn why DIY machines may not be a good choice. DIY machines are heavy, awkward and messy. But more importantly they are not as effective as professional carpet cleaning and using them could result in problems.
DIY Carpet Cleaning Machines Are Heavy
Carpet cleaning machines are heavier than vacuum cleaners. No matter how lightweight a machine may be, carpet cleaning machines all require water, and water is heavy. If you choose to rent a carpet cleaning machine, be prepared for a pretty intense workout.
DIY Carpet Cleaning Machines Are Awkward
Carpet cleaning machines are more difficult to maneuver than vacuum cleaners. If you are cleaning stairs, hallways, closets, and other tight spaces, carpet cleaning machines may be especially awkward to use. If you have knee or back trouble, this could be problematic.
DIY Carpet Cleaning Machines Are Messy
Carpet cleaning machines can be messy. Canisters and attachments get coated with soiled water residue and detergents, and hair and debris collects in brushes. The machine must be thoroughly cleaned before it is returned.
DIY Carpet Cleaning Machines May Not Be Effective
Even if you find a machine powerful enough to achieve a deep cleaning comparable to professional carpet cleaning equipment, this is no guarantee that you will be able to achieve the desired results. Professional carpet cleaning technicians are trained in proper cleaning methods and the appropriate kinds and amounts of cleaning solutions for particular types of carpeting and soiling levels. All of these factors matter when it comes to achieving the best possible results.
In some cases, carpets may even look worse after improper cleaning with a rented machine than they did before cleaning. That's why many landlords require tenants to sign an agreement to NOT use a rented carpet cleaning machine to clean carpets.
DIY Carpet Cleaning Machines May Leave Carpets Too Wet
Dry time is very important. Mold and mildew problems can happen when there is excessive moisture left behind after carpet cleaning. With machine rental carpet cleaning, if too much moisture remains, the carpet padding can stay wet long after the carpet itself has dried. Professional carpet cleaning removes most of the moisture and requires minimal drying time.
DIY Carpet Cleaning Machines Are Noisy
Vacuum cleaners are notoriously loud. Rented carpet cleaning machines can be twice as loud as vacuums.
DIY Carpet Cleaning Machines Are Time-Consuming
When you factor in the amount of time it takes to select a machine, wait in line, check out, loading and unloading in your vehicle, setup time, cleaning time, cleaning the machine, loading and unloading again, and returning the machine to the vendor, DIY carpet cleaning can take a whole weekend. Since time is money, you may not actually save money in the long run compared to hiring a professional carpet cleaner.
DIY Carpet Cleaning Machines Don't Come With a Professional Technician
Sometimes spot removal, odor control, and other special considerations will require the knowledge and expertise of a professional carpet cleaning technician. If you choose to rent a carpet cleaning machine, it will be up to you to figure out how to resolve certain problems.
If you want fresh, clean carpets, renting a carpet cleaning machine to save a few bucks is not really worth the trouble. Professional carpet cleaning is affordable, easy, and effective.