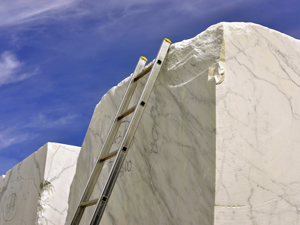 Carrara Marble is a great choice for kitchen countertops, because of its beauty, coolness, and affordability. It can be an ideal for floors and wall tile as well. This marble has been quarried since ancient times and still is abundant today. It comes from the Carrara region of Italy, which is in the northernmost part of Tuscany.
Artistic Appeal of Carrara Marble
Michelangelo and other sculptors selected Carrara Marble as the medium for their work because of its aesthetic quality, smoothness and whiteness. Michelangelo's famous statue of David was sculpted from Carrara Marble. It has been the marble of choice since ancient times, not only for sculptors, but also for builders.
Carrara Marble Colors and Veining
Although noted for its whiteness, Carrara Marble may contain shades of blue-gray or gray. Some Carrara Marble has beautiful veining, which makes it desirable and gives it an organic look that is pleasing to the eye. If you want a more subtle, pristine look, selecting the plain white variety is ideal.
Bakers love its coolness.
As a countertop, Carrara Marble has functionality as well as beauty. For example, bakers love to work with this marble countertop because of its coolness. It is the denseness and hardness of Carrara Marble that makes it conduct heat differently than other surfaces. When you knead bread or pie dough, the warmness is absorbed by the marble, yet it still retains its cool surface temperature. The surface also has a pleasant feel when you touch it.
The price is right.
If price is a factor in deciding what surface to choose for your countertop, then Carrara Marble is a very good choice. Because of its abundance, it is affordable. It is in the mid-range of pricing. In 2020, the price according to various sources is between $40 and $60 per square foot. Calcutta Marble, for example, is $180 per square foot.
How To Maintain Your New Carrara Marble Top
To preserve the whiteness, Carrara Marble should be cleaned regularly. You can use water and pH-neutral stone cleaner, but not soap. It can be rinsed using clear water and wiped down with a soft cloth or paper towels. Ask your stone professional for recommendations for specific products on the market that are designed to clean marble. These products should be used as instructed.
Sealant? Maybe.
Natural stone can be porous, which means it can absorb spills. Sealers may increase the amount of time it takes for stone to absorb a spill. Any sealant used on a kitchen countertop should be marked as safe to use in food preparation areas. It is best to have a stone professional apply sealers.
When spills happen, use an absorbent, white cloth or paper towels to blot the spill. Do not rub or wipe the spill, because doing so will just spread the potential for etching or discoloration over a wider surface area. Once the spill is absorbed, clean the area with water and pH-neutral stone cleaner.
A great choice.
Carrara Marble is a great choice for your new kitchen countertops, and because natural stone can be restored, you'll be able to enjoy a lifetime of use.