Techstone
|
We are experts in stone and tile restoration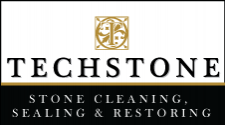 We have decades of experience restoring and maintaining stone and tile for residential and commercial properties.
Welcome to Techstone. Since 1985 we have been cleaning, repairing and restoring natural stone, tile & grout, terrazzo, and concrete floors, countertops, and other surfaces for both commercial and residential customers. With locations serving Carmel / Monterey and all of Northern California, and Ottawa / Gatineau in Canada, we know what it takes to make you look good.
At Techstone we provide the newest, affordable way to clean grout and ceramic or natural stone tile for commercial and residential customers. While we specialize in tile and grout cleaning, we also offer full stone restoration services – honing, polishing, chip repair, etch mark and stain removal. Our unique process is also very effective in cleaning slate, marble, limestone and tumbled travertine.
We are dedicated, experienced hard surface professionals. We don't push dirt around! We extract it from the surface. Benefits of our process Extracts Dirt - plus grime, oil and bacteria. Cleans Entire Surface - tile, grout and baseboards. Textured tile, marble, travertine, limestone, slate, brick, concrete. Sanitizes - up to 230 degrees water kills germs and bacteria. Non Abrasive - will not scratch or damage polished, stained, painted or natural stone surfaces. Extends Life And Protects - removes grout destroying acidity (winter salts, soils, grease) and with application of sealer, protects from them. Saves Money - restores your tiles to like-new appearance, instead of replacing them.
Techstone is serving the entire Monterey Bay, Aptos, Santa Cruz, Capitola, Gilroy, Salinas, San Jose, San Fransisco and beyond. We provide our customers with the best alternatives in tile and grout cleaning, and restoring their flooring investment.