Personal Touch Service Solutions
|
Precision repairs, expert restoration, and maintenance.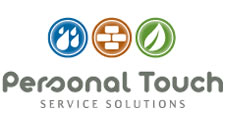 Washington, IL United States
Stone, Tile and Other Surfaces
With Personal Touch, you have nearly three decades of experience at your service. Personal Touch Service Solutions, Inc. began in the 1990's by owner, Joyce Harris, as Personal Touch Cleaning Services. From the very early years, a good deal of our business was providing full service janitorial care to churches and parochial schools.
As the years went by, we expanded into the business community, healthcare offices, and the hospitality industry. By providing carpet care, hard floor care, project cleaning, and janitorial care, the Personal Touch Cleaning Solutions division is a one stop shop for facility maintenance.
First impressions are an inevitability when it comes to the appearance of your property. This works to your disadvantage if your marble floors are dull and etched, your brick walls are spalling, or your concrete parking garage is stained and full of cracks. Conversely, first impressions work to your advantage if your property is professionally cleaned, restored, and maintained. We are proud to provide a wide range of services for floors, countertops, walls, and exteriors for many different surface types, from marble, granite, and other types of natural stone to engineered stone, concrete, and masonry. We can not only help you get your property looking its best, we can help you keep it that way long term.