Patriot Stone Restoration
|
We restore your Concrete, Marble, Granite and other natural stone to its original appearance—or better.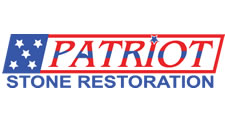 MAKE YOUR SPACE IMPRESSIVE WITH OUR EXPERT SERVICES
Patriot Stone Restoration was founded in 2002 by Tony DeLuna and his wife Aileen.

The Patriot team has accumulated contacts and connections in the industry in years past with all the surrounding Tile stores, General Contractors, Tile Contractors, Designers, Real Estate agents ect. building a strong reputation for quality and dependability. Our Technitions are trained to produce the highest quality detailed work possible for restoring Stone.

Stone restoration is a very challenging trade to master. There are an endless number of methods to producing matching and blending finishes on marbles limestones granites ect… Even today we are still learning methods to match and blend damaged stone.

We are referred by all the largest Tile Stores around.

⦁ Arizona Tile, Livermore 925-453-3250
⦁ Western Tile, Concord 925-671-0145, Dublin 925-829-5544
⦁ Siena Tile & Stone, San Ramon 925-813-8685
⦁ Bedrosian Tile & Stone, Concord 925-676-4858
⦁ coliseum Tile & Stone,San Ramon 925-831-0102
⦁ IRG Inc, Dublin 925-829-1133
⦁ ETM-European Tile & Marble, Lafayette 925-962-0290
⦁ Stanger Tile & Stone, Antioch 925-584-5079
⦁ The Tile Setters Toy Store, Antioch 925-778-0132, Dublin 925-479-0795
⦁ Mount Diablo Tile & Stone, Walnut Creek 925-280-8453
⦁ Sosa Granite, Livermore 925-373-7675
⦁ Granite expo, Emeryville 510-6528882

Looking closely you will see there are not alot of true stone restoration companies in your area, only a few. Because of the dificulty in mastering the trade. A large part of making Patriots success is the willingness to help everyone and anyone that calls. We have a large network of reliable honest contractors that can help with any project in your home.

Patriot Stone Restoration provides professional stone and Concrete Polishing to California's Alameda and Contra Costa County areas.

Using the very best techniques, Patriot Stone Restoration can restore your Concrete, Marble, Granite and other natural stone to its original appearance—or better.

Take a look at our work on the restoration before and after gallery. You will probably find pictures of the same work you need done.

For information on cleaning your stone, grout, stain and mildew removal and more look at our "stone and tile cleaning tips" page in INFO & RESOURCES.

For difficult problems and question you have on installation or sealers please contact us. Our website offers a wealth of resources as well as a link to Stonecare Central, an on-line store that features the very best products for natural stone and tile care. In addition, we add new information as it becomes available in order to keep you up to date on the latest maintenance products and techniques. If your question is not answered in our FAQ section, contact us.