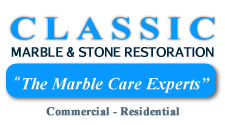 Classic Marble & Stone Restoration
Since 1985
Broomall, PA United States
Classic Marble and Stone Restoration, established in 1985
We maintain and restore marble and other natural stone, tile and grout, terrazzo, pavers, and concrete in the Philadelphia and Delaware Valley area, as well as Southeastern Pennsylvania, New Jersey, and Maryland. Entrust your floors, countertops, showers, and other surfaces to master craftsmen with decades of experience. Our results are unparalleled!
Our services include:
NATURAL STONE
Marble Floor Polishing
Marble Countertop Cleaning
Granite Floor Restoration
Granite Countertop Repair
Travertine Floor Honing
Travertine Shower Repair
Limestone Cleaning & Sealing
Slate Restoration
Slate Enhancing
TERRAZZO
Terrazzo Floor Polishing
Terrazzo Cleaning & Sealing
Terrazzo Chip & Hole Repair
Terrazzo Restoration
Terrazzo Refinishing
CONCRETE
Concrete Floor Polishing
Concrete Sealing & Enhancing
Concrete Stain Removal
Concrete Floor Maintenance
TILE & PAVERS
Tile Floor Cleaning
Grout Sealing
Grout Color Sealing
Tile & Grout Restoration
Tile & Grout Replacement
Mexican Tile Cleaning
Saltillo Cleaning & Sealing
Terra Cotta Cleaning & Sealing
Pavers Cleaning & Sealing
Hardscape Restoration
AND MORE!
Floor Restoration
Floor Refinishing
Wall Restoration
Wall Cleaning
Countertop Restoration
Tabletop Restoration
Grout Replacement
Grout Recoloring
Tile Replacement
Stain Removal
Residential Services
Commercial Services
Historical Restorations
Fountain Restorations
Exterior Restorations
Monument Restorations
Fireplace Restorations
Training & Education