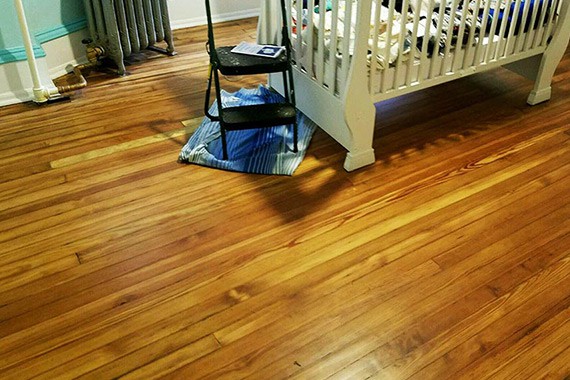 100 Year Old Hardwood Floors
Homeowners in the South New Jersey area contacted Sparkle Surface Care because the wood floor in a small bedroom that they were converting into a baby nursery needed professional attention. The clients, who were adopting a baby, were very excited to get the nursery ready. They planned to paint, decorate, and furnish the nursery themselves, but they knew the wood floor, which needed a major transformation, was not a DIY project.
Sparkle Surface Care technicians estimated that these floors were about 100 years old, and although the appearance of the floor was poor, the wood was still strong and in excellent condition. A few of the boards just needed to be replaced. The clients were also concerned that the paint on the floors could be lead paint and voiced concern about possible toxins in whatever stains or finishes would be required to achieve the look they wanted.
Sanding, Finishing, and Sealing Hardwood Floors
First, Sparkle Surface Care technicians did a quick test for lead. Once they determined that the paint on the floor was not lead, they set to work.
To contain dust, they tented and created a work zone using zip walls, air scrubbers, tape, and plastic. With the surrounding areas protected, they removed the quarter round baseboards, replaced a few boards, and then sanded down the entire floor, restoring the lighter pine shade. Because pine doesn't accept stain evenly, the knowledgable technicians recommended to the homeowners that they simply finish and seal the floors to avoid blotchiness.
They used a non-toxic sealer, safe for kids and pets. In addition, the sealer was a low VOC formula, which means it did not leave behind a nasty smell. These hardwood floor refinishing methods gave these proud new parents the peace of mind they needed. Sparkle Surface Care was able to achieve incredible results.
---
Do your hardwood floors need to be sanded, refinished, and sealed? Contact us to learn more about our hardwood floor refinishing services.