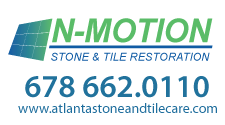 N-Motion Stone and Tile Restoration
Marble, Granite, Slate, Tile & Grout 
Lawrenceville, GA United States
WE SET RENEWED ELEGANCE N-MOTION…
N-Motion is Atlanta's Marble, Travertine, Limestone, Granite, Slate, Tile & Grout Care and Maintenance experts, and have serviced the greater Atlanta area since 2007.
We are stone specialists who understand and appreciate the natural characteristics of stone. Our passion is restoring or enhancing natural stone surfaces to their most beautiful state. We are also committed to educating our customers on the proper care and maintenance techniques to help maintain the beauty of their natural stone.
We offer a full support and consultant service to; residential homeowners, facilities managers, cleaning companies, architects, building contractors, hotels, interior designers, shop fitters and more… "the truth is, we actually enjoy the beauty of natural stone and want you to experience the full visual potential that it has to offer after all, isn't that why you purchased it in the first place?"
N-Motion Stone & Tile Restoration is a certified Surface Care PROS Partner with the knowledge and skills to provide quality craftsmanship on any service we provide. We take pride in staying current on the latest technologies and techniques in the stone restoration industry in order to provide you, our customer, with the best possible service at a quality price.
Give us a call today to discuss your stone restoration needs: (678) 662-0110.
With training in modern techniques recognized by the International Training Centers for the Stone Industry and the most effective natural stone treatments on the market, N-Motion Stone and Tile Restoration provides results that meet or exceed customer standards. We are a small family owned company servicing the Atlanta market since 2010.