Marble Plus Floorcare
|
The Stone Restoration and Maintenance Company Serving Southeast Florida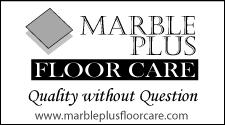 Lake Worth, Florida United States
Our mission is not only to provide you with a quality finish but preserve your natural stone for years to come.
Marble Plus Floor Care is a family owned company specializing in the restoration and maintenance of natural stone, terrazzo, and tile and grout floors. Our service area covers Palm Beach, Boca Raton, Fort Lauderdale, and the Southeast Florida area, including Broward, Dade, and Palm Beach Counties.
Tile and Grout Cleaning and Restoration Palm Beach County FL
MAKE IT LOOK AS GOOD AS NEW… for a fraction of the cost of replacement! Is your tile and grout dirty? Cracked? Do you have missing grout? Dark, stained or discolored grout? Broken or missing tiles? Marble Plus serves South Florida, Ft Lauderdale, Miami and West Palm Beach with professional tile and grout cleaning and restoration. What can our tile and grout cleaning and restoration services do for you?
* Deep clean and sanitize tile and grout lines * Regrouting: replacing missing or damaged grout (cracked, stained) * We can ColorSeal to match your original grout color (great way to seal and protect while giving you a fresh new look!) * We can change the color of your grout to give you a whole new look! Virtually any color available to match or change the color.
Ceramic tile, porcelain tile and other man made tile and especially grout lines occasionally need to be cleaned and maintained. In a commercial setting the ceramic tile and porcelain tile that have textured finishes have a tendency to collect dirt in the rough areas. These tiles usually collect dirt due to improper cleaning processes and the use of improper cleaners. Marble Plus serves South Florida with professional processes for cleaning your ceramic and porcelain tile and grout floors, shower walls, and other surfaces. We carry a full line of cleaners and care products specifically designed to keep your tile and grout clean. Grout Cleaning, Sealing & ColorSealing
Dirty Grout? Grout on tile floors is usually what gets dirty first. Marble Plus serves South Florida with professional services designed to deep clean grout lines around ceramic and porcelain tiles. The first thing you need to know about your grout is that most tile is grouted using sanded grout. Sanded grout is porous and virtually anything that is spilled on the grout penetrates into the pores and accumulates, leaving you with dirty and unsanitary floors, no matter how often you clean them. Even when cleaning your tile and grout, often the dirty water lays in the grout lines, dries and attaches itself to the grout and suddenly you develop dirty grout lines. Also grout becomes stained from the bottom of the sub straight and stains the grout. Even with the most aggressive cleaning methods will not totally clean up these stains, Marble Plus has a process that can clean, then seal your grout with the highest quality sealer available to make it non-porous, restore it back to its original color and leave you with a brand new clean and fresh look that is much easier to maintain.
Don't like the color of your grout? Marble Plus can change the color of your grout to any color you want. The unique thing about the ColorSeal process is that once you grout is color sealed if will prevent staining and make the cleaning easy. Even if you spill coffee, soy sauces, ketchup, etc., these spills will not stain the grout and will clean right up. Constant acting mildecides are another benefit of the Grout Color Seal we use.
Once your tile and grout are clean we carry a full line of cleaners that you can use to properly clean and maintain your tile and grout surfaces.(See proper cleaning and maintenance products.)
Marble Cleaning and Polishing – The Marble Floor Care Experts Serving Palm Beach County FL
Specializing in honing and polishing of all natural stone and related problem conditions. And restoring it to optimum appearance.
Grout removal and replacement
Cleaning
Diamond honing
Sealing
Stain removal
Grinding
Maintenance
Professional polishing
Serving All of Palm Beach County FL
Stand on your own good taste with the high quality standards of…
Marble Plus Floorcare