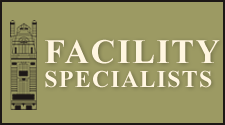 Facility Specialists
Expert stone and tile restoration
Philadelphia, PA United States
We are known throughout the Philadelphia / Delaware Valley area for excellence in residential and commercial maintenance
Facility Specialists understands that the way your offices or building looks is not only a reflection on you, it has a direct impact on your bottom line. Our specialized cleaning, maintenance and restoration services have been unmatched in the Philadelphia/Delaware area since 2003.

We offer facilities management with three distinct specialty services: Marble Lustre —our marble and natural stone care division, Brilliant Floors —our decorative concrete, terrazzo, hardwood, and tile & grout care division, and our commercial maintenance division, which provides ongoing and regular cleaning and maintenance services tailored to your requirements. Each specialty is designed to ensure the beauty of your facility.

Facility Specialists will provide you with outstanding customer service, quality craftsmanship, and the knowledge that only trained professionals can provide. When you look good, we look good.

We will work with you every step of the way and on your schedule, not ours. We value your property, and we will treat like our own. Your satisfaction is our number one priority and as such, all of our services are guaranteed.