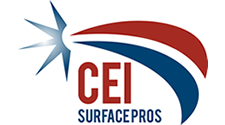 CEI Surface PROS
Floor and surface care. It's what we do.
We've been cleaning and restoring since 1993
CEI Surface PROS in Naples Florida is a Natural Stone and Concrete restoration company. We specialize in the cleaning, restoring and protecting your floors and surfaces and concrete polishing.
We offer the best service in grout sealing and cleaning in the area! If your grout is not stained too deeply a basic cleaning will do the job. CEI Surface PROS will never try to over sell you by pushing a product or service you do not need or want.
Marble Floor Polishing
Marble Vanity Tops Repolishing
Granite Polishing
Crack and Chip Repair
Travertine Cleaning and Sealing
Terrazzo Restoration
Limestone Cleaning
Concrete Polishing
You're in good hands with CEI Surface PROS. Ask us for references. We have plenty of them.