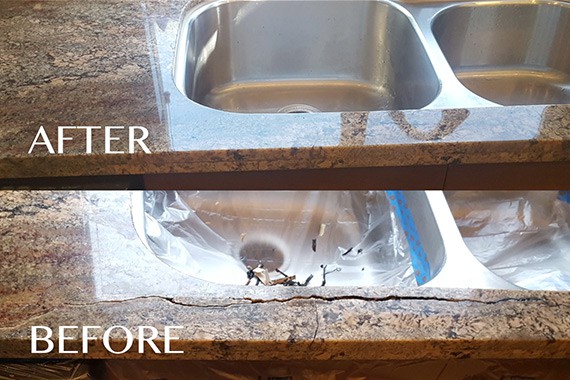 PROBLEM
Rusted Support Rod Causes Granite Crack
Granite countertops are known for their durability, but they are not impervious to damage. One of the most common problems on kitchen countertops and bathroom vanities is cracks in granite around sinks. Many fabricators install metal rods in granite countertops around the sink area for structural support and use moisture barriers, such as caulking, to prevent the rods from rusting. If a moisture barrier fails, the rods rust and expand up to twice their original size. Just as a tree root under a sidewalk causes the concrete to split, even so, granite countertops with rusted rods crack.
Some stone restoration contractors refuse to repair this type of damage, insisting that the countertop must be replaced, or worse, they repair the cracks without addressing the underlying damage, and then the cracks eventually reappear.
Set in Stone Restoration is one of only a handful of companies in the United States that utilizes a thorough structural repair process that achieves lasting results.
SOLUTION
Rod Removal, Reassemble and Repair Granite
Their highly trained technicians dismantle the stone to expose the underlayment and remove the rusted portions of the rod. Then, they reassemble the granite pieces, using tinted epoxy and multiple layers of caulking to help minimize the risk of future failure to the remaining rod. Once all the epoxy is cured, they grind the stone flat, and hone and polish the granite back to a like-new factory finish.
The entire repair process, from start to finish, usually takes about two days. The first day, they repair and restore your countertop. The second day is cure time for the epoxy and caulking. After that, you will be free to use your sink and countertop as normal.
If your granite countertop is cracked in the sink area, be sure to contact a stone restoration and repair expert for a free consultation and estimate. They can often repair even the most severe granite cracks, saving you hundreds of dollars or more compared to replacement.
---