Chisel Granite
|
We specialize in materials that make all the difference.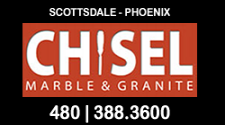 Scottsdale, AZ United States
Fabricators in Phoenix, AZ
Chisel Marble & Granite in Scottsdale AZ is a fabricator and installer of granite, marble, and other natural stones that come from the most exotic locations in the world. We also offer IceStone, a Green / LEED product and quartz surfaces — Caesarstone and Silestone.
The rich palette of colors, combined with the many textures now available in natural stone is making it an increasingly attractive choice for architects, designers, and home owners today.
Fabrication and Installation
Our attention to detail is second to none. Our fabrication process combines an artisan's touch with the most advanced technology available today, providing the opportunity to offer consistent quality, versatility, and timeliness.
Chisel Marble & Granite offers its clients the freedom to be as creative as they wish. Our highly skilled craftsmen produce custom edges within a wide range of slab and tile applications.
Samples of our innovative designs and applications can be viewed in our showroom in Scottsdale. We have a passion for rare and exotic stones, and are committed to fabricating the most cutting edge stones available in the global market today.
We have the capacity to produce and install a high volume of work for our commercial clients. Our quick turnaround times allow our clients to feel at ease in their busy schedules knowing that every phase of their projects will be executed with precision and on schedule, while maintaining a personal customer service oriented experience.
Customer Commitment and Guarantee
We are committed to enhancing our clients' experience and exceeding expectations in working with our firm.
We realize that our business is only as good as our reputation. We continue to work diligently at delighting our customers, with the result that the majority of our business comes from referrals.
We aim to become our clients model partner in making their homes more luxurious and valuable.